About First National Bank
First National Bank has a history of doing what's right for our customers and the communities we serve. Founded in 1857, in the spirit of innovation and commitment to customer service, this sixth generation family-owned business has become the largest privately-owned bank holding company in the United States.
With locations in Nebraska, Colorado, Illinois, Iowa, Kansas, South Dakota and Texas, $20 billion in assets and 5,000 employee associates, we haven't lost sight of the foundation on which our success was built. Integrity, Respect, Passion - these are the cornerstones of our Operating Philosophy and represent our commitment to you. At First National Bank, we strive to better serve you and your banking needs - and we are as hopeful and excited about the future of our bank as our founders were.
Core Values & Mission
Core Values:
Integrity in every interaction.
Respect for our employees, customers and shareholders.
Passion for all that we do.
Mission Statement: To build and maintain long-term relationships by delivering a superior customer experience through simplicity, efficiency and engaged employees while driving profitability and long-term growth.
Board of Directors
First National Bank's Board of Directors safeguards the principles and practices that have guided the company's considerable growth throughout six generations of family ownership. A group consisting of family stockholders and members of the bank's management team, led by Chairman Bruce Lauritzen, ensures that these principles will continue to frame the way we do business for years to come.
Nicholas W. Baxter
Barry A. Benson
David E. Cota, Jr.
Margaret L. Dodge
Mark P. Driscoll
Roger A. Fleury
William W. Flint
Michael S. Foutch
John M. Hoggatt
David J. Janus
Jeff D. Jones
Bruce R. Lauritzen
Clark D. Lauritzen
Stephanie H. Moline
Jerry J. O'Flanagan
Jeffrey A. Sims
Timothy A. Struthers
Michael A. Summers
Greg W. Wilke
Who We Are
When you see our circle one logo - you know you're going to receive a superior customer experience. The First National of Nebraska family includes our banks across Nebraska, Iowa, Colorado, Kansas, Texas and Illinois, as well as our online bank and national credit card brand.

Regions Served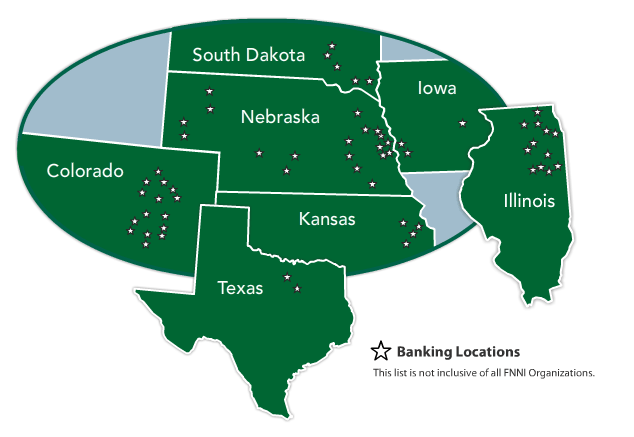 History & Facts

For more than 160 years, First National Bank has maintained its commitment to helping build strong communities.

Leadership Team

Our Board of Directors and Executive Officers are devoted to moving our organization forward.

First in the Community

We've been privileged to be involved in a number of community outreach and development initiatives.

Careers

Start your career with us.

Newsroom

Stay up-to-date with our latest news.

Financial Community Partner

At First National Bank, we aim to be more than just a bank. We want to be your partner and to help watch out for your financial well-being.